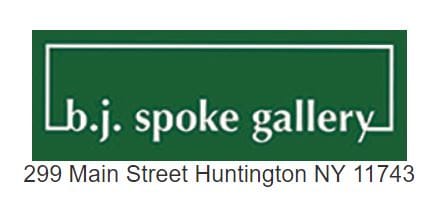 B.J. Spoke Gallery is an artist owned and run cooperative art gallery and non-profit 501(c)(3) organization in Huntington, NY that exhibits the work of members monthly. Our members embrace many media, styles, and expressions. Our members not only bring their art to B.J. Spoke Gallery but share their expertise and talents in successfully managing the gallery. Our members' dedication to B.J. Spoke Gallery has enabled us to be a part of Long Island's art & culture community for nearly 50 years. As a cooperative art gallery, we require members to participate on one or more gallery committees.
There are two types of membership at the gallery: full and general. All members are able to exhibit their work on a monthly basis, consistent with the general membership. However, full membership entitles the artist to have a solo show every two years.
Artist Membership
Membership requires a commitment of one year.

Members exhibit work in 12 shows per year. Two or three of these are group shows occupying the entire gallery (without solo artist shows). The remainder occupy one of the three gallery rooms.

Participation is required – committee work, attendance at meetings, monthly gallery management, and sharing ideas.

Members manage the gallery once a month.

Each member has a gallery key and a vote at general meetings.

Full members who have solo shows are responsible to manage their own receptions and distribute their own invitations. B.J. Spoke Gallery will provide PR for member solo shows but additional publicity by the solo artist is suggested.
To learn more about gallery membership,  please download our  membership application.
The Artist/Gallery Agreement
Membership requires a commitment of one year.

The work of all new applicants for membership, rental or visiting artists of the month must be reviewed and approved at our monthly gallery meetings.

The hanging committee has the sole responsibility for positioning the work of monthly exhibitions.

The gallery will retain a 35% commission on sales.

B.J. Spoke Gallery has the right to use images of work by its members for all promotion of B.J. Spoke Gallery in social media and in print.