Welcome to b.j. spoke gallery
HOME FOR THE HOLIDAYS – An art inspired fundraiser hosted by b.j. spoke gallery to benefit the Long Island Coalition for the Homeless (LICH). On view from December 1, 2021-January 2, 2022. All works of art will be specially priced at $1,000 and under (for this event only). b.j. spoke gallery will donate 35% of all proceeds to LICH.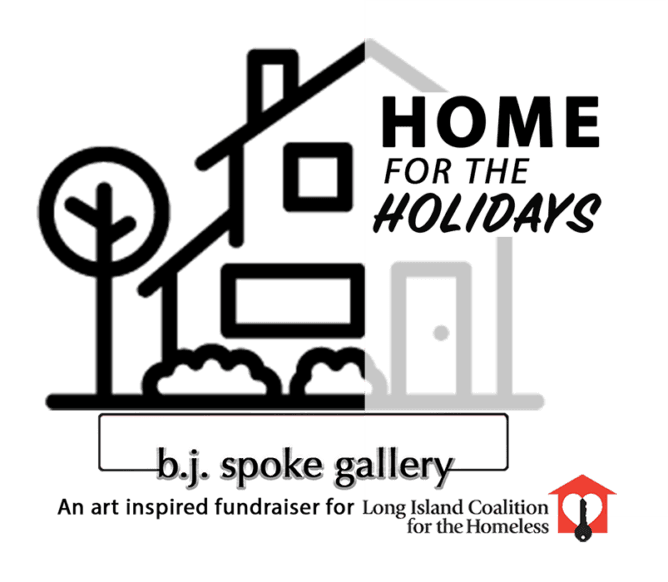 The Kick Off Reception will be on Saturday, December 4th from 6:00-9:00pm. The evening will feature refreshments, live jazz by Joe Cupani and Shawn Lovato, original art by b.j. spoke gallery artists and jewelry. Greta Guarton, Executive Director of the Long Island Coalition for the Homeless will speak from 7:00-7:15pm. Tickets for the Kick Off Reception are $32 for one, $54 for two.
b.j. spoke gallery ARTISTS: Richard Anello, Phyllis Baron, John A. Bell, Emily Bowers, Lorraine Carol, Katherine Criss, Leslie Magavil Delia, Bernadette DeNyse,
Valerie Farrugia, Andrea Fortunoff, Barbara V. Jones, Karen L. Kirshner, Kevin Larkin,
Lorraine Manzo, Minoo Moadel, J. Lefsky, Eileen Shaloum, Cindy Shechter,
Mara Szalajda and Joe Whang
Our fundraiser will be going through January 2, 2022. It's the season for giving purchase art by your favorite artist to give as a gift or for your home or workplace. b.j. spoke will donate 35% of all sales made to the Long Island Coalition for the Homeless (LICH). Can't make it to the gallery but still want to donate? Just visit our DONATE page, where you'll find a section dedicated to LICH for the entire month of December 2021.

We're taking every precaution to ensure the safety of our members and patrons. We ask that visitors to the gallery still follow social distancing practices and wear face masks, if you have not been vaccinated. If you have had your vaccination and prefer not to wear a mask, we ask that you provide proof, for everyone's safety. We recommend always having a mask on hand.
Work by our members can be viewed here If you have any questions about a work of art or are interested in purchasing a piece, please email manager@bjspokegallery.com.
b.j. spoke gallery is an artist owned and run, not for profit, 501 (c)3 organization with an enduring community outreach. For 45 years, we've had the opportunity to represent and work with hundreds of fine artists across Long Island.
Get to know our Gallery Artists. Art collectors, art lovers, and Interior Designers are invited to monthly art openings. Our artists have over 20 years of experience hanging monthly exhibitions, producing national juried competitions and creating art. We can help you create a personally curated and exciting visual signature in any design space. Please call b.j. spoke gallery (631) 549-5106 to set up an appointment for a private viewing of our artists work or to collaborate on a design project.