Welcome to b.j. spoke gallery
On view from April 28 -May 30, 2021, MIND GAMES, a solo exhibition of new work by artist Cindy Shechter. Shechter will feature paintings and collage inspired by her emotional journey during the COVID 19 quarantine.
In the other gallery rooms you will find work by the gallery members.
Join us at the opening reception of MIND GAMES by Cindy Shechter. Sunday, May 2nd at 7:30pm on ZOOM. Pre-registration is required. Just click the link below. We look forward to seeing you!

"Quarantining during the pandemic caused us to feel isolated and alone. With nothing but our own thoughts to comfort us we dwelled in fear and anxiety. Words alone were no longer able to communicate the depth of the emotional toll we were experiencing during this volatile situation. As this past year progressed, my work was driven by my emotions alone. You can observe my mindset in the intensity of the colors and lines I used, fraught with the tensions of the moment. Follow the ebb and flow of the virus as my colors and lines soften, as hope is on the horizon. Come travel with me on this emotional journey." – Cindy Shechter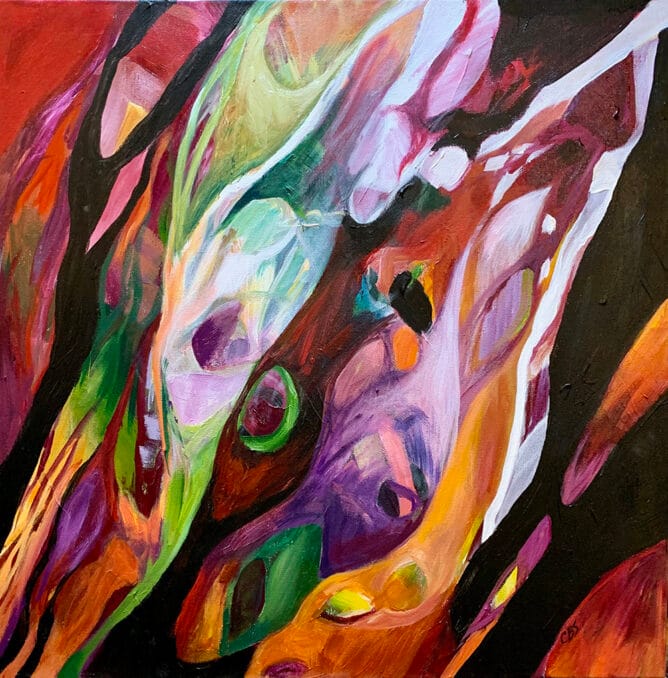 We're taking every precaution to ensure the safety of our members and patrons. We ask that visitors to the gallery still follow social distancing practices and wear face masks. Visitors without masks will not be allowed in the gallery. We look forward to seeing you soon!
Work by our members can be viewed here If you have any questions about a work of art or are interested in purchasing a piece, please email manager@bjspokegallery.com.
b.j. spoke gallery is an artist owned and run, not for profit, 501 (c)3 organization with an enduring community outreach. For 45 years, we've had the opportunity to represent and work with hundreds of fine artists across Long Island.
Get to know our Gallery Artists. Art collectors, art lovers, and Interior Designers are invited to monthly art openings. Our artists have over 20 years of experience hanging monthly exhibitions, producing national juried competitions and creating art. We can help you create a personally curated and exciting visual signature in any design space. Please call b.j. spoke gallery (631) 549-5106 to set up an appointment for a private viewing of our artists work or to collaborate on a design project.