Welcome to b.j. spoke gallery
ON VIEW October 28 – November 29, 2020. COLOR BLAST – A solo exhibition by award winning abstract artist and gallery member Karen L. Kirshner. Virtual ZOOM Reception will be held on Saturday, November 7th at 8:00pm. To attend just click the invite link:
https://us02web.zoom.us/j/87892524589
If you're new to ZOOM visit our tips page HERE: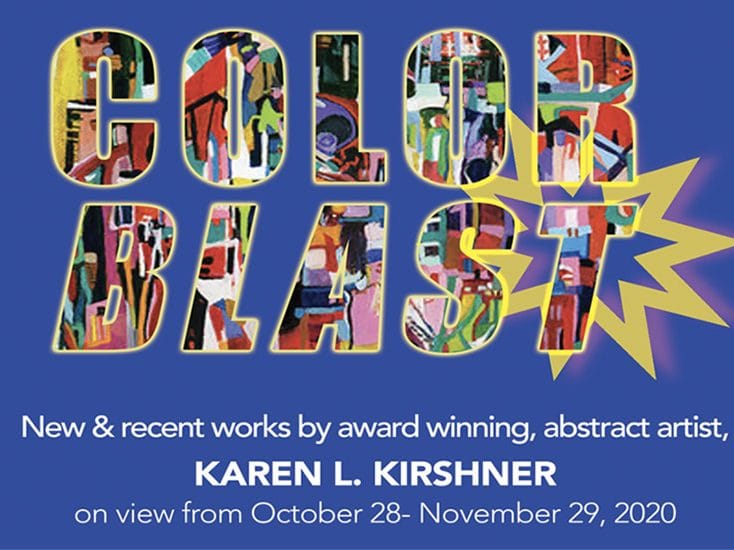 The remaining gallery rooms will be filled with work by b.j. spoke artists:
RICHARD ANELLO, PHYLLIS BARON, JOHN BELL, BARBARA V. JONES, KEVIN LARKIN, LORRAINE CAROL, KATHERINE CRISS, LIZ EHRLICHMAN, J. LEFSKY, LILI MAGLIONE, MINOO MOADEL, ANDREA FORTUNOFF, JO GRAY, SIMON HICKEY,
GIA SCHIFANO, CINDY SHECHTER, MARA SZALAJDA, JOE WHANG
We're taking every precaution to ensure the safety of our members and patrons. We ask that visitors to the gallery still follow social distancing practices and wear face masks. Visitors without masks will not be allowed in the gallery. We look forward to seeing you soon!
Work by our members can be viewed here If you have any questions about a work of art or are interested in purchasing a piece, please email manager@bjspokegallery.com.
b.j. spoke gallery is an artist owned and run, not for profit, 501 (c)3 organization with an enduring community outreach. For 45 years, we've had the opportunity to represent and work with hundreds of fine artists across Long Island.
Get to know our Gallery Artists. Art collectors, art lovers, and Interior Designers are invited to monthly art openings. Please call b.j. spoke gallery (631) 549-5106 to set up an appointment for a private viewing. Our artists have over 20 years of experience hanging monthly exhibitions and can help you create a coohesive and exciting visual signature in any design space.