Welcome to b.j. spoke gallery
This month bj spoke gallery hosts two solo exhibitions and one members group exhibit.
Artist members Liz Ehrlichman and Lorraine Carol will be exhibiting works in the first two rooms of the gallery. Our third gallery room will be feature works by gallery members. On view through April 25th.

Lorraine Carol – EVERCHANGING "Classical cultures believed that our world consisted of the elements Air, Earth, Fire, Water (Spirit or Space). In astrology, the thought is that each element coincides with one of the 12 zodiac signs and plays a role in our personal identity. I started my abstract paintings thinking of the essential qualities of each one. It was the characteristics of the elements that inspired my work more than their visual reality."

Liz Ehrlichman- 2020 VISION "What I found outdoors in the year 2020 informed these paintings. Flowers found in garden and roadside, friends gathering masked on the beach, people enjoying the winter sun: all became elements in my work. These watercolors are my 2020 Vision. "
Register to attend our ZOOM Opening Reception on Saturday, April 10th at 7:00pm.
It's free and all are welcome! REGISTER HERE!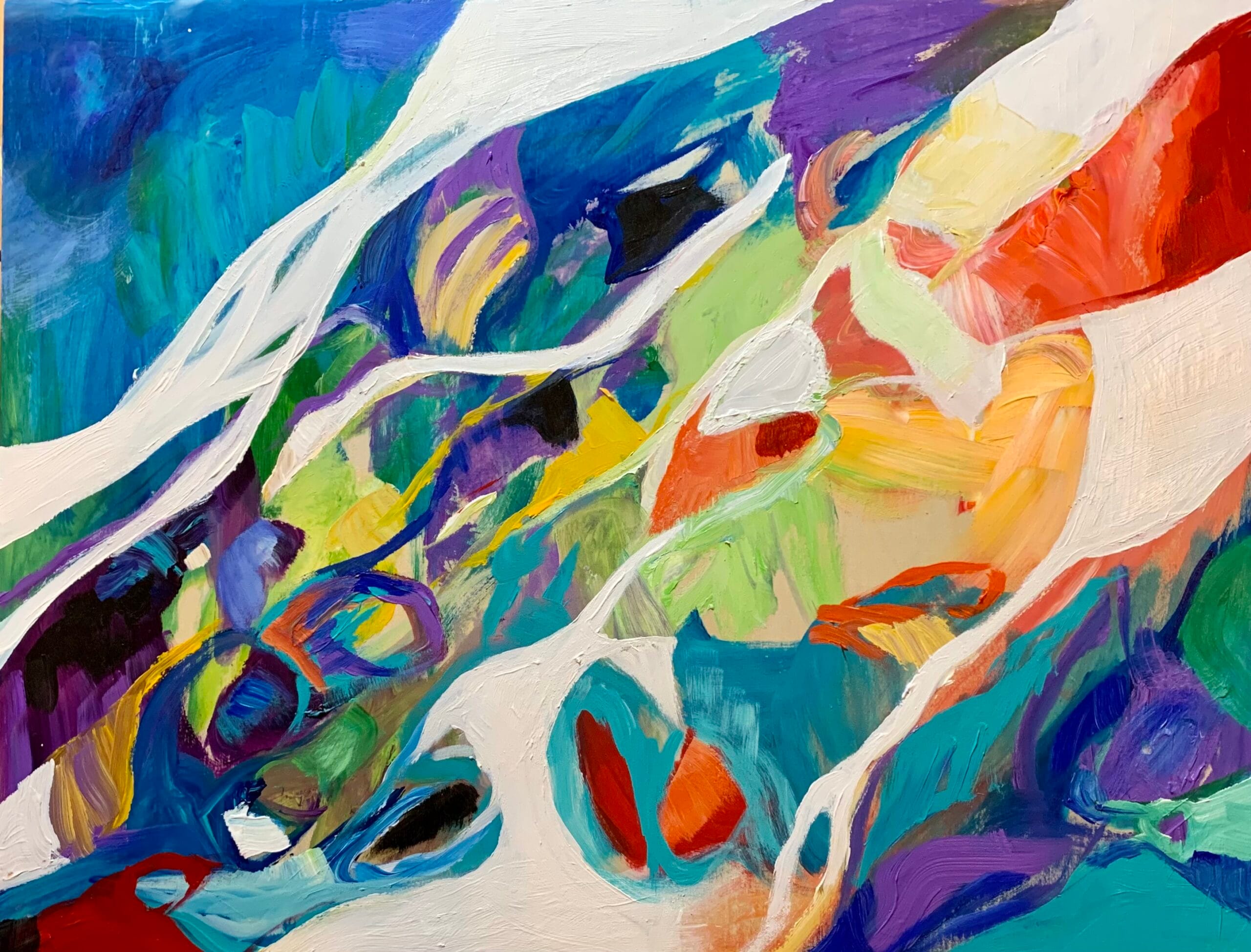 UP NEXT: Cindy Shechter Mind Games. See our calendar for details.
We're taking every precaution to ensure the safety of our members and patrons. We ask that visitors to the gallery still follow social distancing practices and wear face masks. Visitors without masks will not be allowed in the gallery. We look forward to seeing you soon!
Work by our members can be viewed here If you have any questions about a work of art or are interested in purchasing a piece, please email manager@bjspokegallery.com.
b.j. spoke gallery is an artist owned and run, not for profit, 501 (c)3 organization with an enduring community outreach. For 45 years, we've had the opportunity to represent and work with hundreds of fine artists across Long Island.
Get to know our Gallery Artists. Art collectors, art lovers, and Interior Designers are invited to monthly art openings. Our artists have over 20 years of experience hanging monthly exhibitions, producing national juried competitions and creating art. We can help you create a personally curated and exciting visual signature in any design space. Please call b.j. spoke gallery (631) 549-5106 to set up an appointment for a private viewing of our artists work or to collaborate on a design project.