We run two national and/or international juried competitions per year. These competitions are only open to non-members. The winners' exhibitions are held in March ("EXPO"), in August ("Paperworks"), and in November ("Harvest of Artists"). The gallery also hosts poetry nights, charity events, artist talks and bi-monthly "artist circle" discussion groups. We provide a local artist community.
CURRENT CALL FOR ENTRY: PAPERWORKS 2022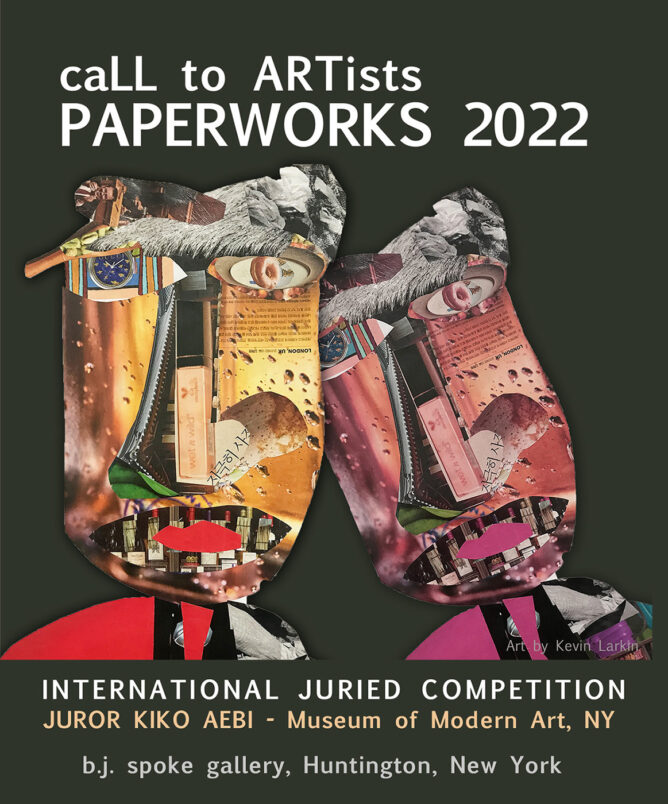 Deadline: May 31, 2022 11:59PM (EST)
PROSPECTUS
PAPERWORKS 2022 International Juried Art Competition
JUROR: Kiko Aebi has been a Curatorial Assistant in the Department of Drawings and Prints at The Museum of Modern Art, New York since 2019. In this role, she has provided exhibition and acquisition support on various projects. Most recently, she worked with Senior Curator Jodi Hauptman and Associate Curator Samantha Friedman on the Cézanne Drawing Exhibition (2021) and contributed texts to the associated exhibition catalog. She is the recipient of a Fulbright Research Grant and holds a M.A. in Contemporary Art History from Vrije Universiteit in Amsterdam and a B.A. in Art History and Environmental Studies from Amherst College.
ELIGIBILITY: Artists who use paper as their primary substrate or as a subject of a video. All entries to the Paperworks 2022 competition must be the original work of the artist.
ACCEPTED MEDIA: Works made on, with or about paper: cut paper, folded paper, woven paper, glued paper, drawings, paintings, pastels, printmaking, photographs, paper sculpture, digital art, bound books, collage, mixed media, video, and installation.
AWARD: Selected artists will have up to six pieces included in a one month, online exhibition on bjspokegallery.org and promoted on b.j. spoke gallery's social media accounts from August 1 – 31, 2022. Awards will be given to 1st, 2nd, and 3rd place artists.
OPENING RECEPTION: Saturday, August 13th at 7:00pm EST on ZOOM (Video Communications Inc.).
ENTRY FEE: $35.00 for submission of up to 6 images or 2 videos. You will be juried on your body of work. If you're submitting an installation or sculptural work you might consider using 2 or more of your 6 permitted images and/or a video in order to give the juror an accurate visual. However, please keep in mind that these six images are used to illustrate your single entry rather than be treated as six independent entries.
SIZE LIMITATIONS: PAPERWORKS 2022 will be an online exhibition. There are no size constraints for work submitted.
DEADLINE: May 31, 2022 11:59 (EST)
NOTIFICATION: Artists will be contacted by June 10, 2022
LEGAL AGREEMENT: Entering the competition implies your consent for b.j. spoke gallery to use your name, artist statement, and images of your art in all advertising and publicity for PAPERWORKS 2022, including but not limited to: print, video, via Zoom, on bjspokegallery.org, and on social media.
HOW TO APPLY: Submissions are made through the Call for Entry (CaFÉ) website. You must create a user account on CaFÉ in order to submit your work to PAPERWORKS 2022. It's free, just go to: https://artist.callforentry.org/register.php.
If you already have an account on CaFÉ, you can access the call directly here: https://tinyurl.com/y2shd75m.
For help with uploading media (images and/or video) go to: https://www.callforentry.org/artist-help-cafe/uploading-media/