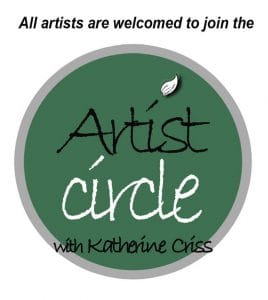 WHAT is the ARTIST CIRCLE?
The Artist Circle is a discussion group focused on creativity and the sharing of art with colleagues. Founded and led by b.j. spoke executive board member and artist, Katherine Criss, the Artist Circle has been meeting for 10 years. The group is opened to artists working in all mediums at all levels.  Membership to b.j. spoke gallery is not required.   
Meetings are held twice a month on  Sundays  from 11:00am-1:00pm at b.j. spoke gallery 299 Main Street, Huntington, NY 11743.  A $5 donation is suggested.
Each meeting is centered around a specific art related book, topic, or special project the group is working on.  Attendees are free to bring their art to share and discuss. Discussions are open, collaborative, and informative.  If you're attending for the first time,  please contact Katherine Criss – KatherineCriss@gmail.com or (631) 549-5106.
The Artist Circle was created to help artists define their creative vision, provide a deeper understanding of their work and the creative process. The discussions, mini workshops, lectures and art tours help artists overcome creative blocks and articulate their work to the public.  Participants can share artwork at each meeting. Members provide constructive feedback and suppport.  The Artist Circle is led by Katherine Criss, and have been meeting regularly for ten years.
Artist Circle two-hour, bi-monthly meetings include:
Member check-in – each member takes 5-minutes relating their artist dates and creative projects, since the last meeting (1/2 hour total).
Group discussion on assigned topics, chosen from the books we're exploring .Current Reading:  "Real Artists Don't Starve: by Jeff Gains
Occasionally Circle members introduce an artist's work who has inspired and motivated them or they have demonstrated techniques or materials, while sharing their experience using them. 
Artist Circle members have the opportunity to share their work, and practice articulating their creative vision.  (1 hour).
Artist Circle Meeting Dates 2021

February  7,  February 27
March  7 ,   March 21
April   11,   April 25
May  9,  May 23
June 6  June 20
July  11,  July 25
August 8,  August 22
September 5, September 19
October 17,  October 31
November 14, November 29
Artist Circle at b.j. spoke gallery