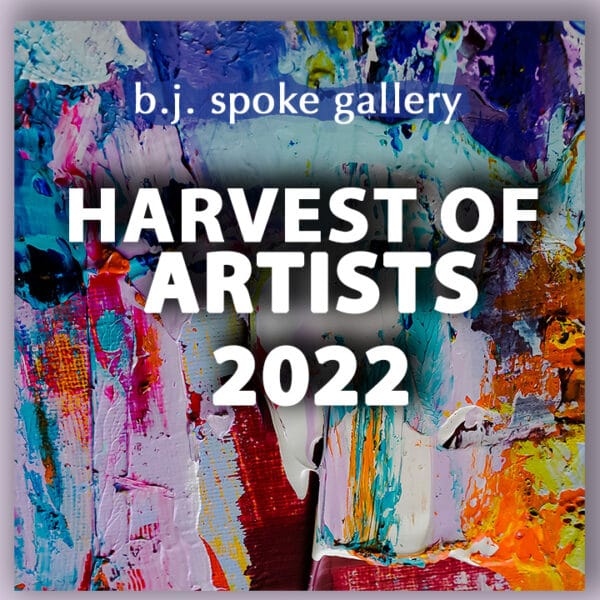 Harvest of Artists is b.j. spoke's annual, non juried, exhibition opened to local artists. b.j. spoke gallery was founded with the intent of serving artists who are interested in; getting exposure, exhibiting work in a gallery setting, networking, and celebrating art. Harvest of Artists 2022 will be limited to the first 40 artists. Early registration is recommended. No spots will be held without a signed loan agreement and payment. Your entry fee of $60 includes:
One work of art in any style or medium, maximum of 40″x 40″ in either direction (including frame).
Your work on view at b.j. spoke gallery fro Wednesday, January 5 – Sunday, January 30, 2022.
Opening Reception – Saturday, January 8th from 6:00-9:00 for you and your guests at b.j. spoke gallery.
Promotion by b.j. spoke gallery on website and social media.
Please submit a jpeg image of your work with your application for publicity. Images should be 200 dpi or higher and 1200 pixels on the longest side. Image should include: Artist Name, Title, Medium, Price.  Email your image to:  KatherineCriss@gmail.com – include HARVEST 2022 PR in the subject line.  Deadline for Applications: please submit your application on line or in person by December 29, 2021.   Drop off Date: Sunday, January 2nd by 4:30pm.  No Exceptions.
All work must be wired and ready for hanging. No sawtooth hangers. Please include a label on the back your work with – Artist's Name, Title, Medium, and Price.  b.j. spoke gallery has the right to deny entry of any art we deem as inappropriate for the gallery.
DOWNLOAD the HARVEST of ARTISTS 2022 application here.  You can fill this application out on line and email to: KatherineCriss@gmail.com. Payment for entry can be made through PayPal or credit card.  Thank you.