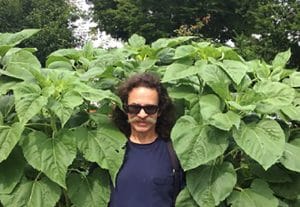 As a subtractive sculptor all my artistic efforts are governed by three basic elements, line, form, and movement. Line creates form and together line and form give life to movement. Whether sculpting, drawing or writing novels my initial approach is simple and straightforward.
A respect for your materials along with a goal of beauty.  Sounds easy, is hard.  My early career was centered strictly around sculpture. Hand carved wood abstract figures in highly polished black walnut and cherry made up the bulk of my work. I began showing with Alliance of Queens Artists in the 80's. There I participated in three of their most prestigious Manhattan shows; the Warner Communications Building, Pen and Brush Club and Manhattan Borough Hall where I won top honors.
In the 90's I showed three consecutive years at the Salmagundi Club where I won the Alice B. McReynolds Award. Shortly after that, I won the much sought-after Peacock Award at Nassau County's Chelsea Center. Later in 1994 one of my pieces took first place at the North Shore Art Guild. All of my work is meant to caress the human eye, an encounter on the simplest level. In recent years I've been showing my pen and ink drawings. Black and white, negative and positive, tight and loose all at the same time. This is another labor-intensive pursuit that has broadened my body of work. The drawings are a series of ink portraits that have been well received at the highest competitive shows in the New York area. In 2016 and 2017 I was lucky enough to be selected for both the "EXPO 36" and "Paperworks" juried shows at b.j. spoke gallery. The judges for both of these shows were assistant curators for the Museum of Modern Art, Jennifer Harris and Akili Tommasino respectively. To have my work accepted by such respected members of the art community was certainly the high point of this artist's creative efforts. This success led to an invitation to join the cooperative artists at b.j. spoke gallery where I have been able to show both sculpture and drawings together for the first time.
Art has been my life's journey, each drawing is another step, each sculpture another mile, each novel another mountain climbed. Somehow this strange trip has brought me back to the island where it all began.
Image Gallery
Click thumbnails to see full image