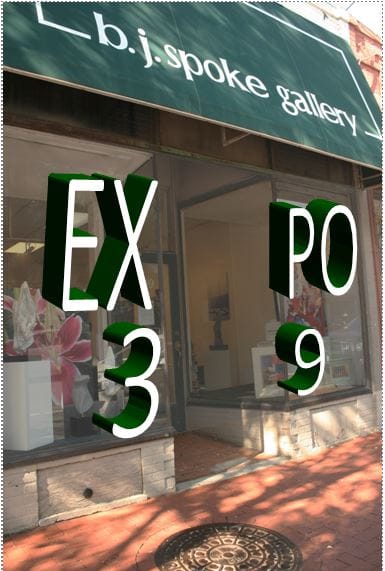 EXPO 39: b.j.  spoke gallery's 39th annual competition
b.j.spoke gallery, Huntington, NY 11743; phone 631 549-5106; www.bjspokegallery.org
Judge:         Lina Kavaliunas, Curatorial Assistant, The Museum of Modern Art.
Award:        Winners will participate in an exhibition of selected works, March 2020 at the gallery.
Media:         All fine arts media are acceptable: watercolor, drawing, pastel, painting, sculpture, mixed media, installation art, photography, video, digital art, etchings, monotype, monoprint, silk screen, lithography, collagraph, fiber art, etc. No crafts, please.
Eligibility: Artists living in the United States.
Deadline: November 15, 2019.
Fee: $35 for 6 images and/or 2 videos.
Liability: All work will be handled with the utmost care. However, the b.j. spoke gallery does not carry insurance for your work and will not be responsible for loss or damage. Entering the competition implies your consent for the b.j. spoke gallery to use your name and images of your art in all of its advertising and publicity, in print or online.
Instructions: All work must be framed and wired or display ready. Use plexiglass only, unless items are to be hand delivered.  Artists are responsible for shipping or conveying their own work to and from the exhibit. Work is limited to 60″ in any direction and should not weigh more than 40 lbs. Please check our floor plan on the CaFE website to see that installations will fit our gallery space. Installations must be set up and removed by the artist.
Application: Entries will be submitted online through the Call for Entry website, www.callforentry.org.
To apply, you must become a member of their organization (it's free). The EXPO 39 call can be found from their home page by selecting: VIEW ALL CALLS, and then searching for EXPO 39. Or, you can go directly to the call with this link: https://artist.callforentry.org/festivals_unique_info.php?ID=6775
For instructions on how to enter, including submitting your images, go to https://www.callforentry.org/faq.phtml.