Date/Time
Jun 26, 2018 - Jul 29, 2018
11:00am - 5:00pm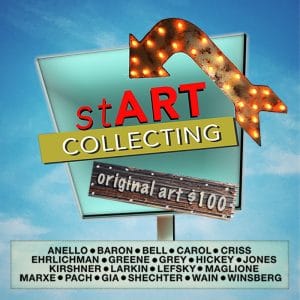 WELCOME; past, present, and future ART COLLECTORS!
b.j. spoke, Long Island's premiere co-op art gallery is offering original paintings, prints, sculptures, and works in all media by our gallery artists, at the special "stART your collection" price of $100. Original works and prints will be available for $100, some pieces created exclusively by b.j. spoke artists for this event. Don't miss this opportunity to start or add to your art collection.
WHEN: This one time art event, will run from June 26 through July 29th
b.j. spoke gallery 299 Main St. Huntington, NY.
Art purchased can be taken home the same day.
OPENING RECEPTION: Saturday, July 7th from 6:00-9:00pm.
Building an art collection is no longer something reserved for the privileged few. Many art lovers, at all income levels have built wonderful art collections over the years. Dedication, research, an eye for talent, and knowing where to find affordable, original work, is key to starting your art collection. I'm looking forward to adding some pieces to my newly started collection.