First Time Viewing of Drawings by Jean-Michel Basquiat
STREET 2 SPOKE, an exhibition to honor the work of Neo-expressionist, Jean Michel Basquiat and his influence on graffiti and street art. b.j. spoke gallery at 299 Main Street in Huntington, N.Y. will be showing never-before-seen drawings by Jean-Michel Basquiat along with art by gallery members, and legendary, graffiti artists; ANDALUZ the ARTIST, COPE2, and EASY. STREET 2 SPOKE opens on June 25 and will run through July 28, 2019.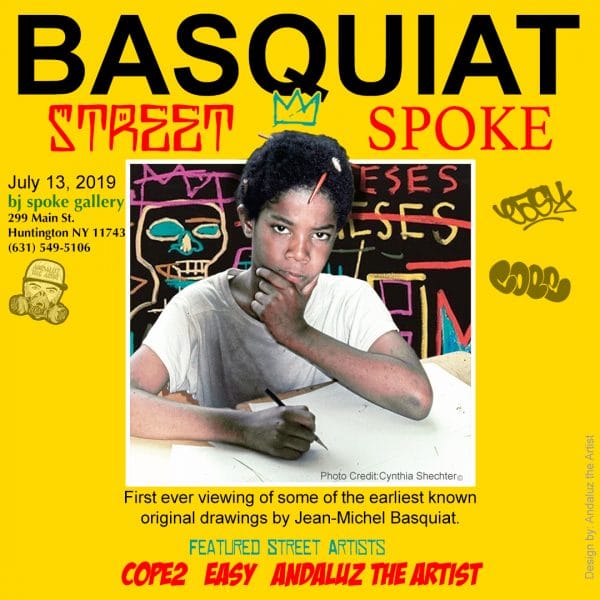 The centerpiece of the exhibit will be the first ever viewing of some of the earliest known original drawings by Jean-Michel Basquiat. Along with several pencil drawings, there is a colorful work on paper entitled "Teenage Gangs of the 50's." It was produced by Basquiat when he was a 6th grade student attending P.S. 101 in Brooklyn. Basquiat was part of an Art Squad taught by b.j. spoke artist Cindy Shechter, who saved pieces of his work that Basquiat had torn up and discarded. Cindy's experience with a very young Basquiat is chronicled in a new documentary, A Few Things Basquiat Did in School, by award-winning filmmaker Peter Josyph. The film will premiere at Nassau County Museum of Art on Saturday,  June 22, at 3:00 p.m. with an introduction by Josyph and a Q & A to follow.

Opening Reception Saturday, July 13, from 6 – 10p.m. The Opening Reception will be the ONLY time, these never before seen works by Jean-Michel Basquiat will exhibited in the gallery. The documentary, A Few Things Basquiat Did in School, will play in its place, on all the other days of the exhibition. Donations are requested and will go to providing art supplies for elementary schools in need.
The Press is buzzing, read the latest.
NEWSDAY An Undiscovered Basquiat?  by Mark Chiusano
About Us: b.j. spoke gallery is a member owned and run art gallery and non-profit 501(c)(3) organization founded in 1975. Over the last 43 years b.j. spoke been an integral part of the Long Island art community; representing hundreds of artists, working in a diverse range of styles and media. b.j. spoke also offers monthly art exhibitions, art groups, poetry nights, workshops, charity events, and yearly, national, competitions with jurors from Museum of Modern Art, The Whitney Museum of American Art, Museum of Modern Art and the Guggenheim.
Event tickets are FREE and available on Eventbrite (click to learn more)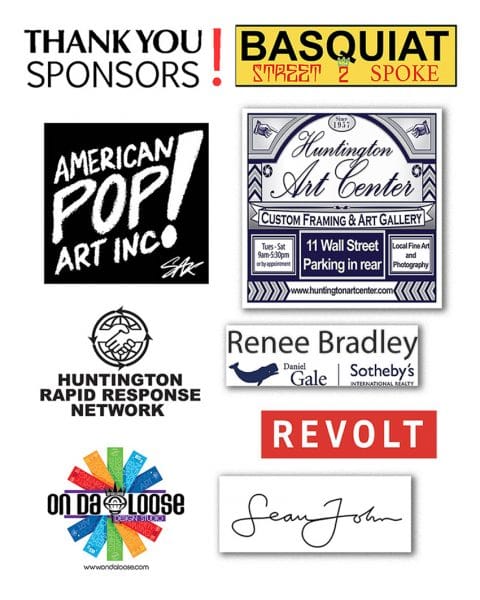 Get to know our sponsors:  American POP Art Inc., Huntington Art Center, Huntington Rapid Response Network, Renee Bradley International Realty, REVOLT  TV,  On Da Loose Design Studio, Sean John Clothing